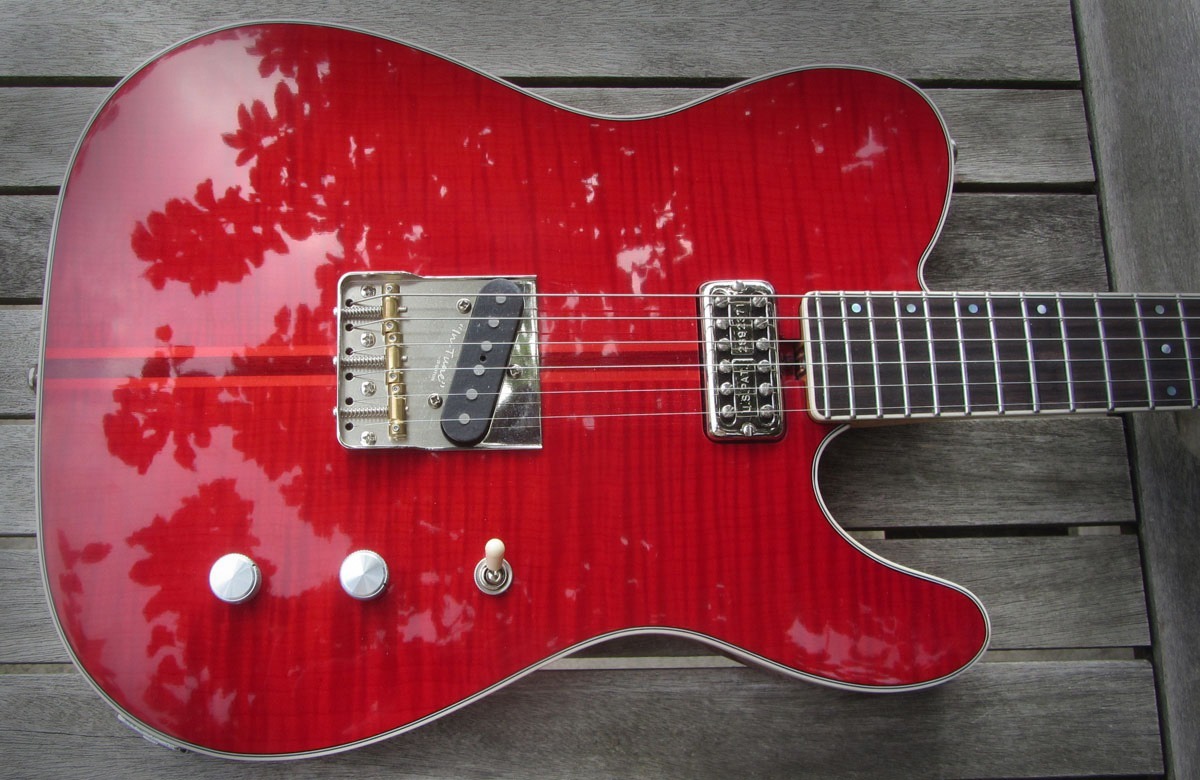 TC-X family guitars
This includes designs evolved far from the original Tele or aged replicas, Esquire-style versions – almost anything is possible. If you have an idea, get in touch.
Specs & options
Number of pickups: 1, 2
Pickup type: most types available including those which need a non-trad style of bridge – endless possibilities
Body timber and construction: chosen with customer
Finish: nitro or 2k as required. Aged finish optional for nitro.
Neck timber: typically maple, may be laminated depending on design
Fretboard wood: chosen with customer
Scale length: 24.75″, 25″, 25.5″
Fret size: typically medium jumbo, but any size available. Nickel-silver, Jescar EVO gold and stainless are available options.
Hardware: Gotoh is standard, anything else available on request. Electronics will be CTS pots, Switchcraft jack & switches
Case: gigbags or hard cases available
Price
Dependent on spec/design/materials. The models pictured are £2600.
TC-X: The Strawberry

This has a general 'lines and stripes' theme in the design, which is followed throughout the wood construction, the binding, the maple top and so on.
The body here is alder with padauk and maple centre, and bookmatched flame maple top. Chambered and quite slimline at 39mm thick. This guitar weighs 6 lbs.
The control cavity cover is flame maple, from the same piece as the top.
There is a smoothed and tapered heel which is all but 'invisible' to the playing hand, and has recessed mounting screws. The neck also has a multi-laminated section of padauk, walnut and maple.
The binding and purfling is especially complex with seven pieces.
As pictured the Strawberry TC-X has a Bareknuckle bridge pickup and a Gretsch Filtertron – it currently has a TV Jones Magnatron instead.
The trad bridge retains the essential Tele bridge sound, and compensated saddles retain the look but function superbly.
A second version is about to commence build. If you are interested please get in touch – spec can be adjusted to your taste, up to a certain build stage.
TC-X traditional-style builds
Currently in build and available to order is a swamp ash 'blackguard' type traditional build which will have an aged finish. And an Esquire-type which will have an aged pale sonic-blue type colour.
If you're interested in any of these please get in touch.